Showing Products 1-24 of 10 Result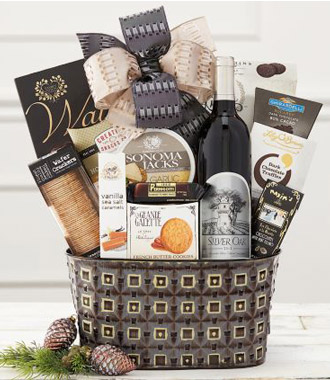 Silver Oak Cabernet Gift B..
$242.99
"Silver Oak Alexander Valley cabernet sauvignon has black currant and raspberry aromas with notes of vanilla and cocoa. A fine assortment of sweet and savory favorites was selected to complement this distinguished gift."
Grgich Hills Fume Blanc Gi..
$184.99
"This Grgich Hills wine basket delivers sophistication and class. Your gift recipients will know how highly you think of them when they discover the robust flavors of the Grgich Hills fume blanc. Garlic and chive chips, hot honey crunch mix, Perugina fruit hard candy, rosemary and olive oil crackers, butter toffee nuts, green and black olive tapenade and Sonoma Jacks garlic & herb cheese wedges are packed inside a copper basket."
Showing Products 1-24 of Result